Since 2010, MarineFloor Europe develops a new modular floating pontoon system suitable for general public and professional use. With high-quality French production, our solution allows the creation of lightweight pontoons and floating platforms, flexible as desired, endowed with extraordinary rigidity and a very high load capacity.
Applications affect a wide variety of sectors :
 The harbour sector (river and sea)
Sports & leisure : Triathlon starts, kayak-polo match, icewater swimming, trails, raids, team sports grounds, athletics …
Nautical bases (various applications in all nautical and aquatic sports)
Events : Transatlantic races, maritime festivals, boat shows, concerts, entertainment for the general public …
Civil engineering and construction : floating solutions for works afloat (bridges, footbridges, material transport, etc.)
Tourist development : installation of pontoon, footbridge in Natura 2000 zone, temporary summer harbour, restaurant terrace, etc.
Military engineering and rescue services : special boat base for professionals (more than 200 ref.)
Industry : drilling platform (quarries), maintenance (nuclear power plants).
The first modular polyethylene pontoon was built in 1971 in Austria. He revolutionized the food industry by allowing the creation of aquaculture farms in the open sea, lakes and rivers. This brilliant system has enabled considerable progress in the field of pontoons. However, apart from anglers who practiced it with ease, the stability and rigidity could not yet be compared to a classic floating pontoon made of aluminum, wood, steel or concrete.
In 2005, Laurent Dubois, with 18 years of experience in the plastics industry, became interested in the question when he discovered a modular floating plastic pontoon in a beach club abroad, reserved exclusively for staff. The principle was certainly improved, but it caused pinching of the finger or toe when passing waves; it was bulging; the connecting pieces ejected regularly; it was slippery …
The idea of ​​a "new cube" was germinating: to offer a floating floor, stable, easy to install, modular and accessible to all. MARINEFLOOR® EcoSystem® was born.
A paper, a pencil and the adventure has begun. To start with, the rotational molding option was the best bet, the investment in molds being more reasonable. The first Marinefloor cubes saw the light of day and were presented at the Paris Boat Show in December 2005.
The result was stunning, the male / female interlocking system markedly improved stability and definitely solved the finger pinching problem, but there was still room for improvement. Marketing started successfully, however, as rotational molding production was very limited, blowing was quickly put in place to meet the high demand. New molds were created, bringing further improvements. All the weak points of the "first generation" cubes were completely resolved.
Since then, Marinefloor has continued to develop and improve production and quality by following the evolution of materials and in partnership with its network of professionals who participate in the development of new products. Five new molds were released in 2013 for the boat bases, 2 more in 2015. Four new molds are planned for 2020/2021.
" The results of all this development are clearly visible on all the structures installed but also in most of the afloat boat shows with our various applications: docks, pontoons, boat bases, floating stands… The system speaks for itself -even in comparison to the competition which has so far made no significant change compared to the first cube of 1971"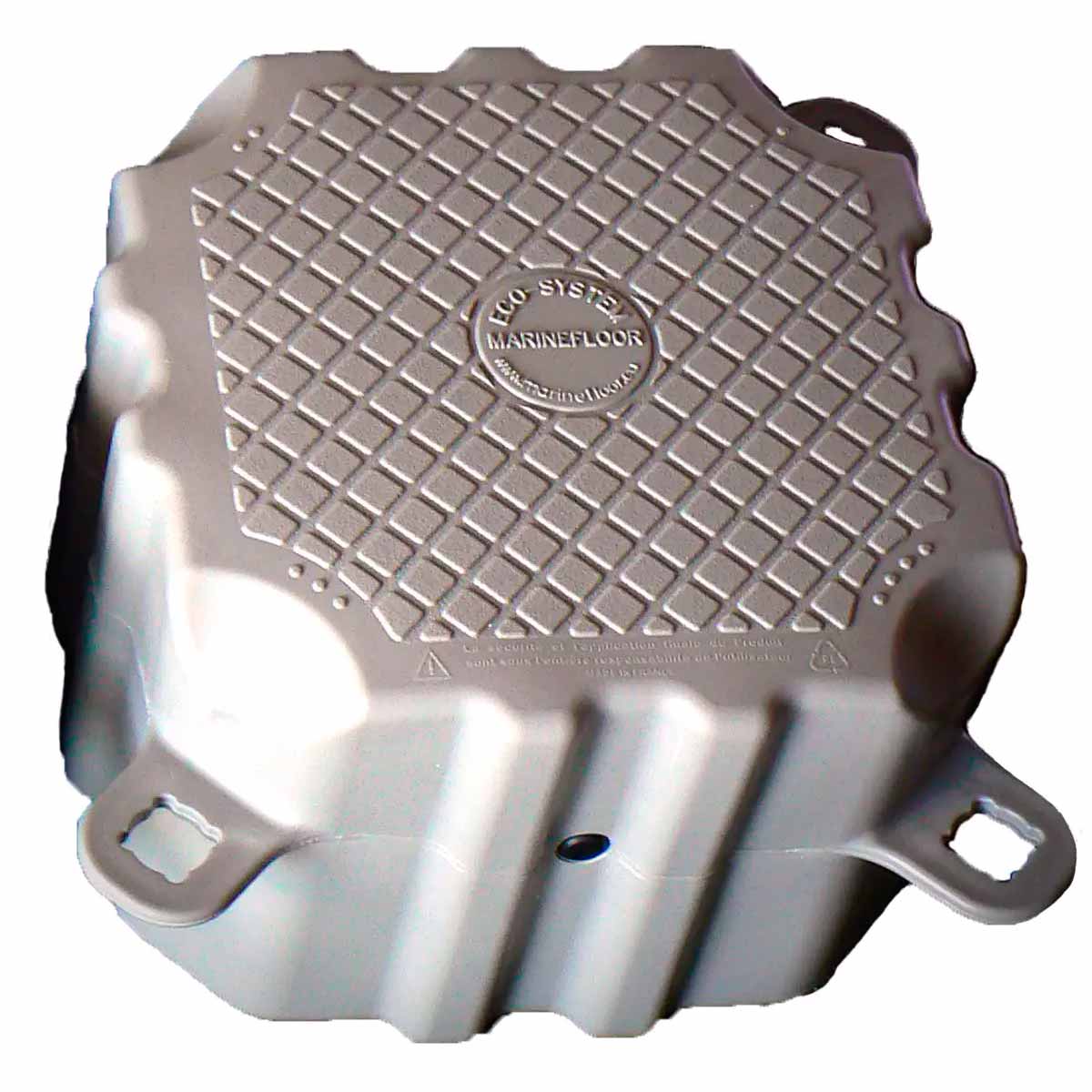 Non-standard buoyancy of 360 Kg / m² offering possibilities to float any type of object, vehicle, crowd …

Lightweight (6.5 kg), handling and assembly are easy.

High quality 7mm HDPE plastic with additives to resist UV rays. Manufacturing by extrusion blow molding, inert and 100% recyclable


Patented male/female grooving system guaranteeing an assembly of remarkable stability.

Development and Manufacturing
100% French. 10 years guarantee

Checking the sealing and manufacturing of each cube when it leaves the factory

Tear resistance of 2 tons per attachment point.
M

arineFloor, French manufacturer
QualitY

Working with a state-of-the-art French factory, endowed with environmental certifications (ISO 9001 Certification, MORE 2019 Label), sensitive and active in the area of ​​the ecological footprint of its productions and their life cycle is an essential component for MarineFloor. The quality of the raw material and its processing, the confidentiality of manufacturing secrets, direct communication and the possibility of being present on site also reinforce this choice.
Our molds are also designed by our partner, according to our guidelines for expected results and in constant consultation with the competent technicians, available, who are fully part of our R&D team. Maintenance and ad hoc modifications are also managed in-house, guaranteeing impeccable manufacturing quality and limiting the transport of these particularly heavy parts.
Ecology

By choosing a production unit in France, we have also made the choice of environmentally responsible production. Our partner is ISO 9001 certified (quality management), guaranteeing a reliable and durable product.
It also has the MORE 2019 label, the first European label promoting the action of plastics processors for the circular economy and the integration of recycled plastics in production (1,400 tonnes of plastic in 2019).
Finally, the design office integrates the logic of eco-design in order to design the most efficient product possible over its entire life cycle (production, use, recycling).
In addition, the plant's central geographical position optimizes the transport distances of our products, further reducing the carbon footprint of distribution.
Manufacturing

Serving our customer

Our production in central France allows us to ensure fast deliveries throughout France and neighboring countries. Our teams can go to work directly at the machine exit to finalize logistics optimization assemblies, in order to avoid unnecessary pre-routing.
100% FRENCH PRODUCTION
100% FRENCH SUPPLIERS
ISO 9001 FACTORY
PERMANENT R&D
10 YEARS WARRANTY
Employment support

By choosing 100% French production and selecting French subcontractors for our development of tailor-made parts, our fittings, ropes, chains, … we indirectly support qualified French employment. On average over a year, without counting its internal teams, Marine Floor Europe supports 8 full-time jobs.
Know how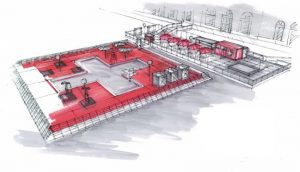 Nearly 15 years of experience allow us to have installed an infinite variety of projects at sea, lake, river, river …
We are used to the land, used to our products, and we are always inclined to be force proposal to optimize the ideas of our customers, both technically and safely as well as logistically, adaptability to use, … Never stingy with advice and ideas, we often support our customers to optimize their project.
Technical Study and Modeling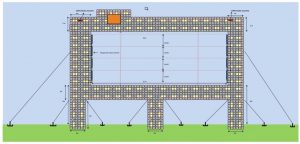 Each project is unique. This is why we study with precision the components of each realization according to different aspects (tidal range, anchoring, sizing for use, buoyancy, safety, accessorization, adaptation to various constraints, …).
We then produce at least a 2D or 3D modeling and a satellite photo layout if necessary.
Delivery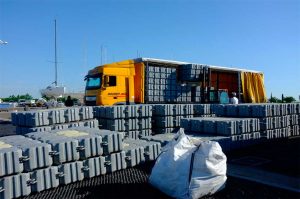 We ensure the complete management of the deliveries of our structures, including unloading and organized provision for easy assembly. We also carry out a visit (virtual or on site) to optimize logistics.
We deliver as needed on flatbed trailer, semi-trailer or in containers.
Installation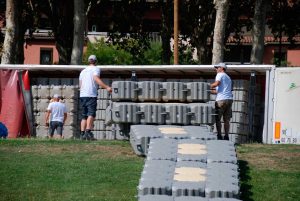 Several scenarios are possible concerning the installation.
Rental without installation: the structure is small and / or your teams are trained in the product or in nautical work.
Rental with Installation: our team takes care of everything, on request, for a turnkey installation.
Sale without installation: the structure is small and / or your teams are trained in the product or in nautical work.
Sale with installation: our team takes care of everything, on request, for a turnkey installation. We also train the staff present in the handling of the product for better autonomy.
Whatever the situation, we provide assembly instructions and the necessary plans.
Our teams are experienced in the handling and assembly of modular floating structures based on EcoSystem® cubes and thereby guaranteeing perfect execution in record time.
.
Custom development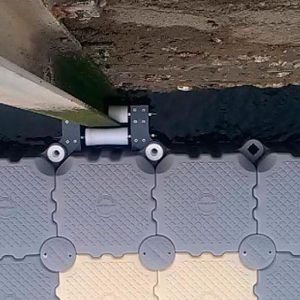 If necessary, we develop specific parts or accessories on customer request.
We take care of designing the necessary, most often internally, or with the technical support of certain partners.
Here, for example, a system of rollers to drive the pontoon during tides.
Equipment management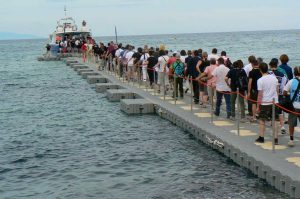 The management of the equipment we provide is the responsibility of the customer. We provide him with support and training.
On request, and only for short-term events, we can provide this function. Do not hesitate to tell us about it when you submit your project.

Establishment in a port – Testing and validation center
Marine Floor Europe has over time surrounded itself with a network of partners in Europe and Overseas. These partners, who are by no means mere distributors. In addition to the fact that they are fully and regularly trained in the management of our products, they also participate in the development and life of the company. And what a life! In the end, it is a real family that we invite you to discover.
Due to their complementary geographical positions and their stock of equipment, we can deploy our solutions quickly and further reducing their carbon footprint. This network continues to expand.